Powerful ways to understand and learn Chinese
Using dictionary definitions with machine translations
Machine Translations
Google Translate
Microsoft Bing Translator
Google and Microsoft are the most popular web-based translation services. They provide good service at a fair price; service fees are paid by advertisers or Loqu8 (since iCE does not display annoying advertising). When you highlight (HighlightScan) or copy (ClipboardScan) Chinese text, the translation is displayed at the top of the popup window. These third-party services are subject to availability and require a web connection.
Tip: For best results, always review these translations with dictionary-based definitions.
Google and Microsoft offer their services for a fee. On the web, advertisers pay the fee. Since Loqu8 iCE does not display distracting advertising, Loqu8 collects a fee based upon usage (translation credits). Google charges for each character, space and punctuation. Since WebTranslate preserves the original web advertising for Google and Bing, there is no charge for using WebTranslate services.
Dictionary Definitions
CC-CEDICT Chinese-English dictionary
Premium dictionaries*
Personal dictionaries*
RubyDef
When viewing Auto-Translation results in HighlightScan and ClipboardScan, hover your mouse over the Chinese text to see the full semantic range of definitions. Loqu8 iCE's default Chinese-English dictionary, CC-CEDICT, contains over 115,000 entries with modern Chinese terms, names (people, companies, government agencies), idioms and slangs. Premium dictionaries (Medical and Scientific, etc.), alternate languages (German, French) and personal dictionaries may also be selected. RubyDef is the first entry in the default dictionary. See Settings > Dictionaries for details
*Some features are supported only in Professional and Ultimate Editions.
MLX Auto-translate
By default, Loqu8 iCE translates Chinese into English. Do you prefer a different language? With Loqu8's Multi-Language eXtensions (MLX) cloud service, choose Spanish, Korean or other languages using Google Translate or Microsoft Translator services. You may also have the English meanings from the CC-CEDICT dictionary translated into a language other than English.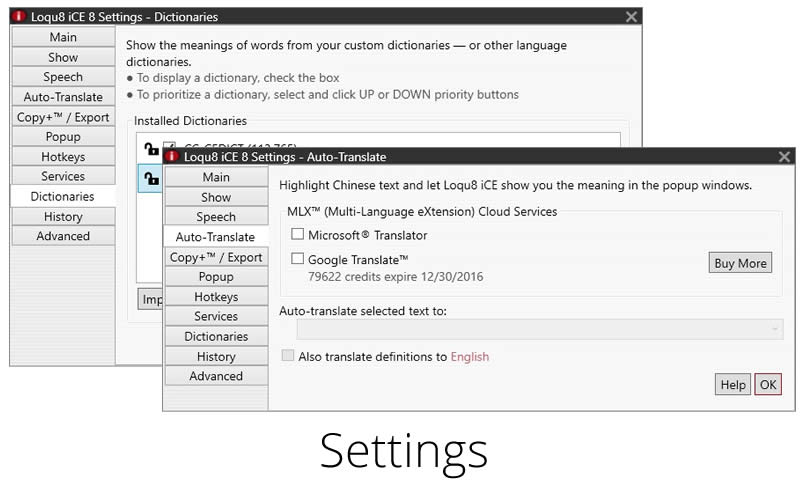 In Settings > Auto-Translate, choose Microsoft Translator or Google Translate--or both.
In Settings > Dictionaries, manage your dictionaries: install, prioritize, export or delete.*